In the era of technology, tasks are becoming simpler and simpler. The introduction of user-interface enabled Windows to dominate the operating-system market because of its ease.  However, there are a number of people who still prefer the olden ways; such as using DOS, Ubuntu and other OS which allow them more control.Usage of such operating systems is not always the easiest if you are not accustomed to it. For example, to install a program from open source, you would have to use the Terminal (known as command line in Windows) and it can prove to be a little confusing for people who are new to these operating systems.
Today, we will provide a step-by-step guide to download one of the most famous games of all-time on Ubuntu; Counter Strike 1.6.
As everyone knows, Counter Strike (CS) is one of the most famous series of multiplayer first-person shooter video game. There are two sets of teams; terrorists and counter-terrorists. The terrorists battle to perpetrate acts of terror (bombing and hostage taking etc) whereas the counter-terrorist's duty is to stop the terrorists from successfully performing those heinous acts.
The main series includes: CS, CS Condition Zero, CS: Source, CS: Global Offensive. And the spin-offs includes Neo, Online Series and Nexon: Zombies.
Now that you are familiar with which game we are talking about, let us see the process through which we can download this popular game onto our Linux-based operating systems.
There are going to be multiple steps involved and they are as following:
Step 1:
Firstly, what you will need to do is to download CS 1.6 and then install it on your system.
Install Counter Strike 1.6
I will assume you have the software downloaded now.
Step 2:
Wine Windows Program Loader enables Ubuntu-based users to install software and games in Windows-like window as opposed to the traditional method of reverting to the Terminal. Below you can find both methods:
Go to Ubuntu Software Center
Search for Wine Windows Program Loader
Install Wine
Alternately, you can use the Terminal to install Wine. Here's the code for that:
sudo
apt-get install
wine
Step 3:
Find your downloaded file of CS 1.6 and then open the file with your Wine program to proceed to the installation phase.
Go to Downloads
Right click the downloaded CS 1.6 file
Select Open With Wine Windows Program Loader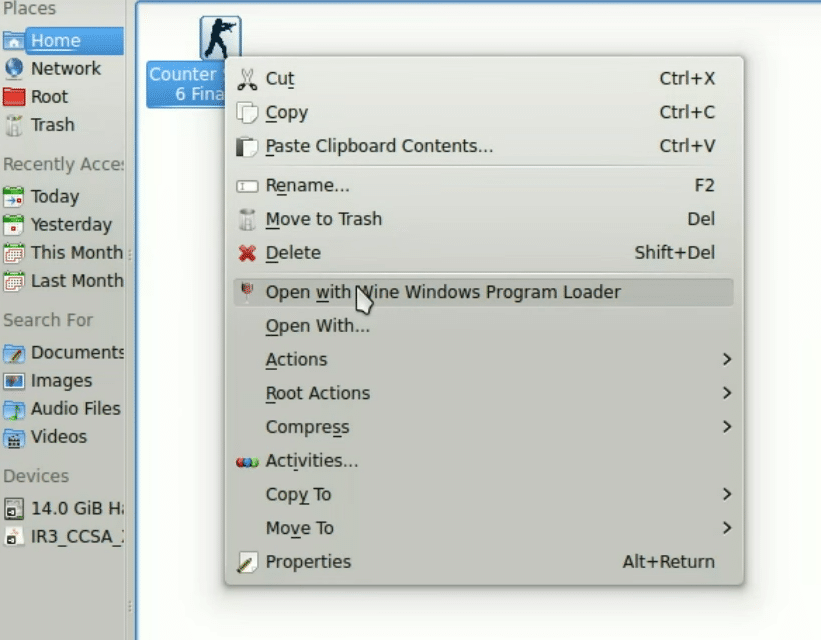 Step 4:
For anyone who has used a Windows environment, it is very easy to follow the installation process. All you have to do is select the directory in which you want the game to be installed and read the agreement and click next.
Follow the installation process and select directory of where you want the game to be installed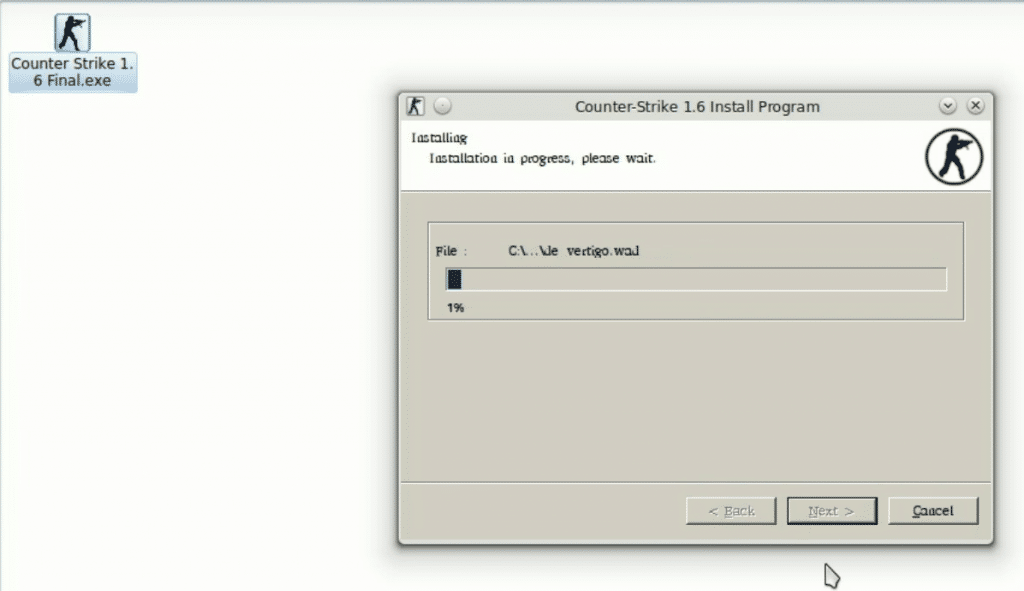 Step 5:
Go to Wine File Directory
Open the location where you installed Counter Strike 1.6
Double click on hl.exe

Step 6:
Now that you have successfully installed the game, all you need to do is open the game and do a few adjustments as stated below:
Once the game starts, select option Change Game
Open Counter Strike from the list
The reason why you have to open Half-Life is because CS was initially designed as Half-Life modification. It was launched by Valve on Windows platform in 2000 and from there, the CS franchise picked its pace.
Congratulations! The process is now complete and you can enjoy playing one of the most iconic games on your Ubuntu-based OS.
CS 1.6 Servers in Pakistan
Here are some of the most famous CS 1.6 servers in Pakistan, which always guarantee players fighting their hearts out:
| | | |
| --- | --- | --- |
| Server Rank | Server Name | Server IP |
| 2412 | [PZ] – Public [Free VIP] | 37.59.222.3:27015 |
| 2445 | Fariya Gaming Afk_6killer Server | 119.159.241.2:27017 |
| 2529 | PSL Gaming | AFK | 86.105.49.97:27021 |
| 2712 | Khan Community | Small Maps | 193.192.58.126:27016 |
| 2768 | Fariya Gaming Deathmatch + FFA Server | 119.159.241.2:27016 |
| 2989 | ApnaSarbaaz | AFK | 103.245.195.22:27016 |
| 3031 | ZM.DANGER.NIGHT | 185.172.145.137:27025 |
| 3190 | Extreme3 GameZ | 176.31.215.220:27029 |
| 3322 | Pak-War Gaming | 51.255.229.28:27015 |
CS 1.6 Map Names
Here is a compilation of all the maps that exist for the Counter Strike franchise for Counter Strike, Counter Strike Beta, Counter Strike on Xbox, Condition Zero, Source and Global Offensive.
Arsenal: Arms Race (ar) maps
Baggage 
Lake
Monastery
Safehouse
Shoots
St. Marc
Arsenal: Demolition (de) maps
Bank
Lake
Safehouse
Shortdust
St. Marc
Sugarcane
Shorttrain  – Later removed from CS:GO in the November 13, 2017 patch.
The Flying Scoutsman (ar) maps
Dizzy
Lake
Safehouse
Shoots
Wingman (de) maps
Cobblestone
Inferno
Lake
Rialto
Shortdust
Train
Shorttrain   – Later removed from CS:GO in the November 13, 2017 patch.
Shortnuke
Assassination (as) maps
Forest 
Highrise
Oilrig 
Riverside
Tundra
Hostage rescue (cs) maps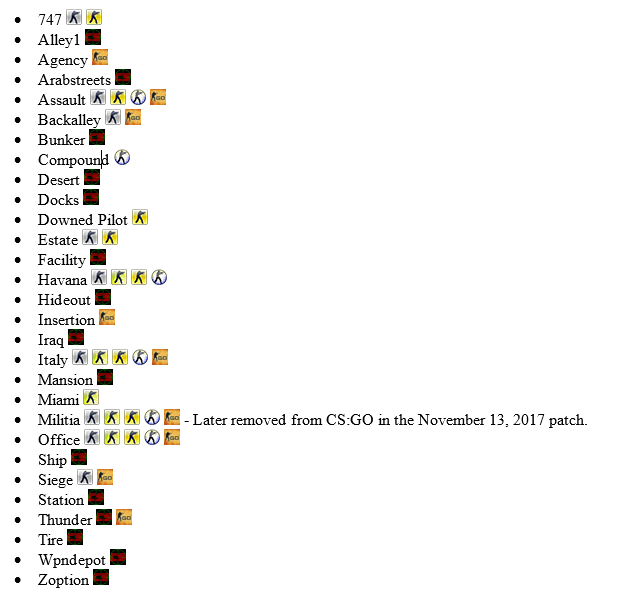 Bomb defusal (de) maps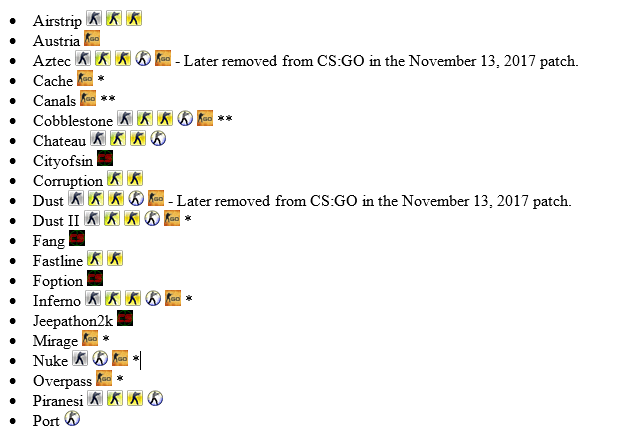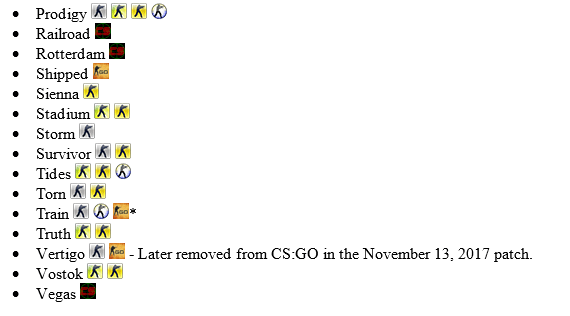 * Active Duty map group
** Reserves map group
Escape maps (es) maps
There has not been an official Escape map in any Counter-Strike games. However, three maps are developed during the game mode's development during the Counter-Strike Beta.
Operations maps
Hostage Rescue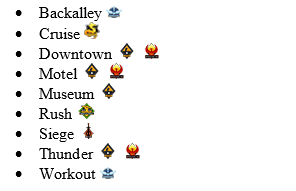 Bomb Defusal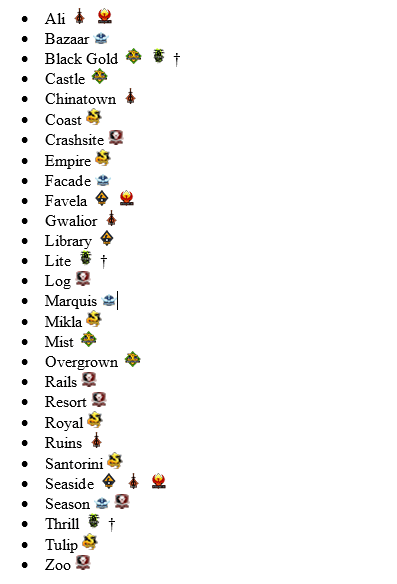 † Operations map group
Other maps
Note: Most of these maps consist of officially-made maps that had only appeared in Operations.
Phoenix Compound   (Co-op Strike)
Crashsite  (Guardian missions)

ONET IDC thành lập vào năm 2012, là công ty chuyên nghiệp tại Việt Nam trong lĩnh vực cung cấp dịch vụ Hosting, VPS, máy chủ vật lý, dịch vụ Firewall Anti DDoS, SSL… Với 10 năm xây dựng và phát triển, ứng dụng nhiều công nghệ hiện đại, ONET IDC đã giúp hàng ngàn khách hàng tin tưởng lựa chọn, mang lại sự ổn định tuyệt đối cho website của khách hàng để thúc đẩy việc kinh doanh đạt được hiệu quả và thành công.