Let's be honest – as much as it is a powerhouse for any sort of technical development, scripting and whatever you can conjure up in your imagination, Linux lacks in one very specific department – multimedia. Or at least that's what people will often tell you. But they're wrong.
The times when anyone could have honestly said Linux is not to be taken seriously by professionals in the creative fields are long gone. Developers from all around the world have been making groundbreaking progress on getting that full experience right into your Linux box. If you didn't know about it by now, then read on – you're about to find out just how far we've gone.
Development has taken a few very promising turns which already carry results with them. More so in one specific area – image editing. While Windows and OS X can make good use of some industry standards, such as Photoshop, Linux can now compete quite fairly. The maturity of any popular distribution's ecosystem has now reached a point where there is an abundance of solutions for anything from editing and drawing to library management. For each need of a visual artist, there is a corresponding piece of software that offers you a set of features that will allow you to work comfortably.
So without further ado, let's take a look at how Linux can let you turn your creative mode on (or just touch up your family photos).
AfterShot Pro
AfterShot Pro is a modern batch processing tool for RAW images which is similar to Adobe's Lightroom in terms of functionality. In terms of speed, however, it absolutely blows the competition away. It's not a free piece of software as it is developed commercially by Corel. Even so, it comes at a very affordable price and while its competition runs on a subscription basis, you only need to pay for AfterShot Pro once.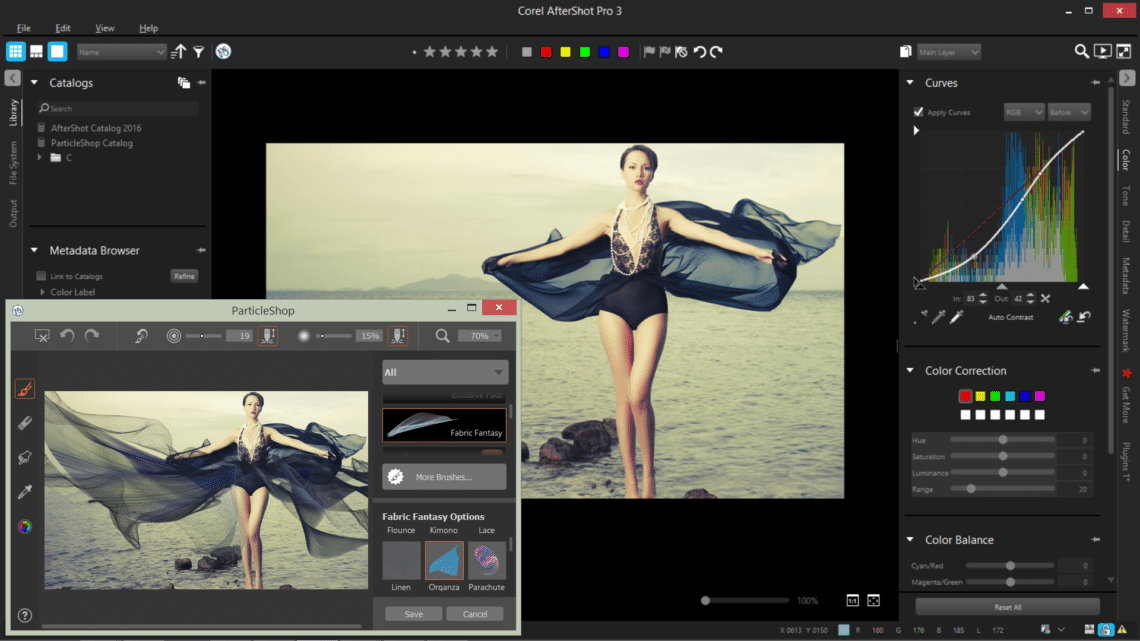 Pros:
Fully functional batch import and processing tool.
It features built in recognition and correction of common photo issues
Allows you to watermark images in batch
It is supported on Windows as well
Has a plug-in ecosystem that expands its functionality
Cons:
Not FOSS, runs on licensing basis (one license allows you to use it on up to three separate machines)
Is aimed strictly at photographers and doesn't allow you to draw or create from scratch
digiKam
While digiKam is more of a professional photo manager, it is fully suited to process batches of RAW images which makes it the perfect solution for a quick touch-up in photography. It allows you to sort, process and even publish photos in one efficient work flow. It is completely free and offers a substantial amount of the functionality any photographer could be looking for when shipping out a small photo session.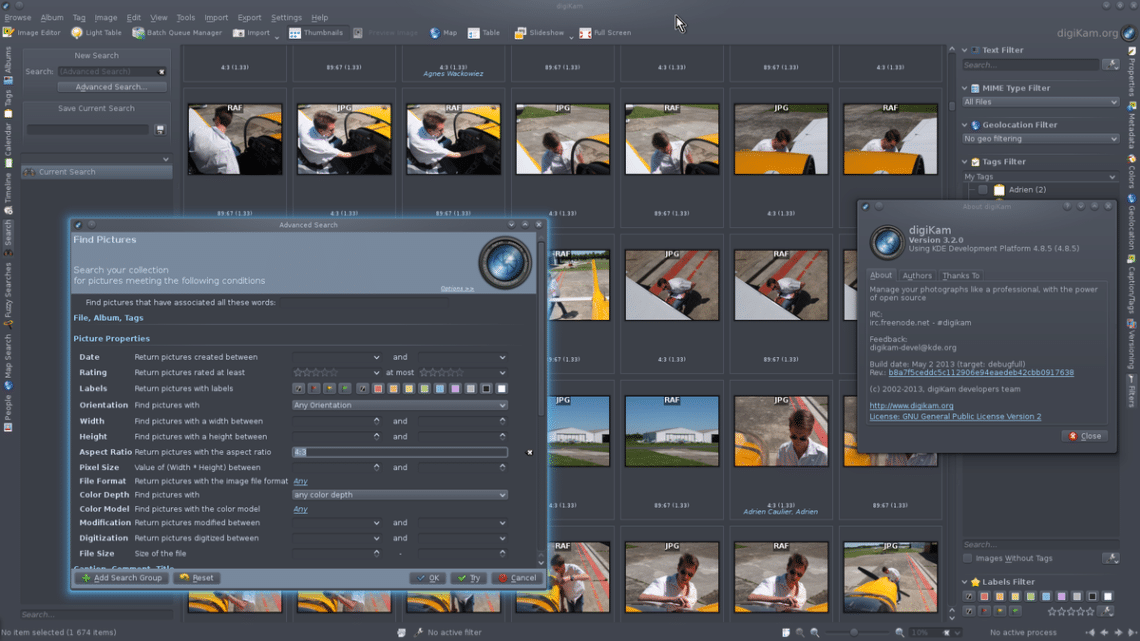 Pros:
Photo management, editing, exports and publishing in one piece of software
Includes all the image editing essentials, including color and exposure correction, texturizing and many others
Allows you to manage and edit metadata for your images easily and intuitively
Supports batch processing
Allows you to organize your photos and includes advanced filtering functions for when you work with hundreds of images
Cons:
Photo editing capabilities feature only the essentials. If you need something more than that, you will need to try out the other editors on this list.
Krita
Krita is one of the most exciting and sought-after projects in the Linux ecosystem. It is specifically aimed at people who are looking for an all-in-one graphic arts solution. It has been in development for over a decade now but recently, after it started running on a donation basis, the program experienced a massive growth spurt, turning it into a perfect solution for any aspiring or established artist.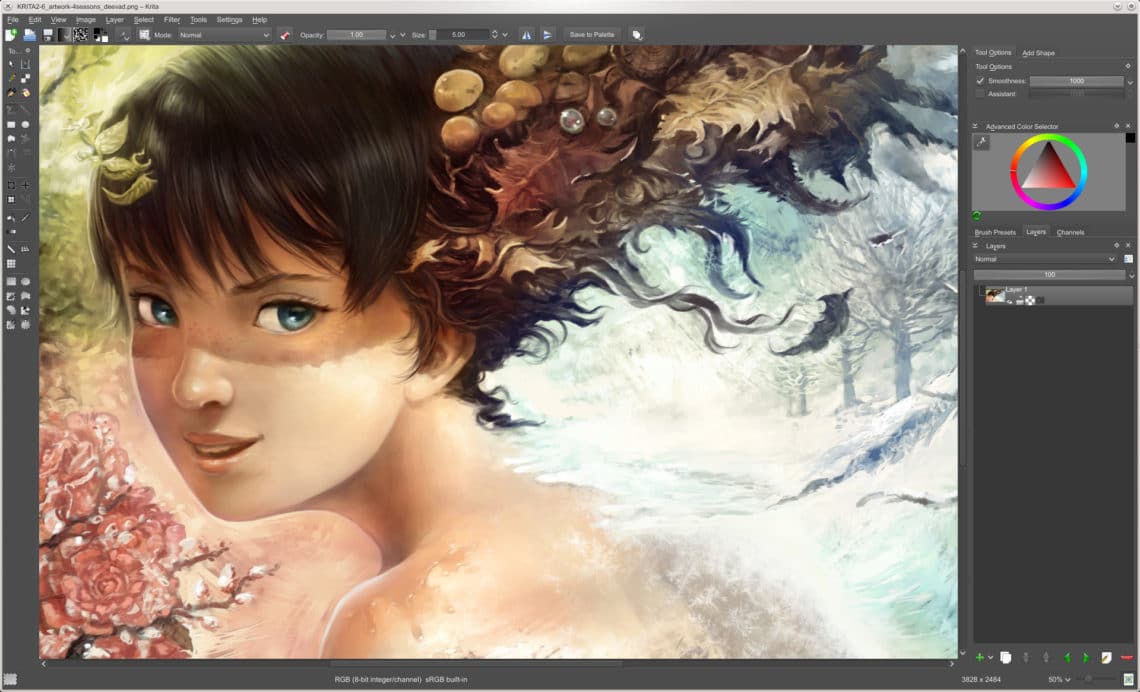 Pros:
Has an intuitive and easy to manage interface that won't get in your way
It supports brush stabilizing which makes drawing digitally way easier for people with shaky hands
It is completely free which is amazing, given the value it has
Supports PSD files for Photoshop cross-compatibility
Full support of most graphic tablets and their various features
Cons:
Albeit able to edit images in the conventional way, Krita emphasizes on drawing
Inkscape
Inkscape is a vector graphics editor which allows you to create and edit vector graphics on a professional level. It's mainly used to create and edit vector graphics, focusing on the SVG format. Thus, it is mainly used for creative processes such as logo creating and drawing various design assets.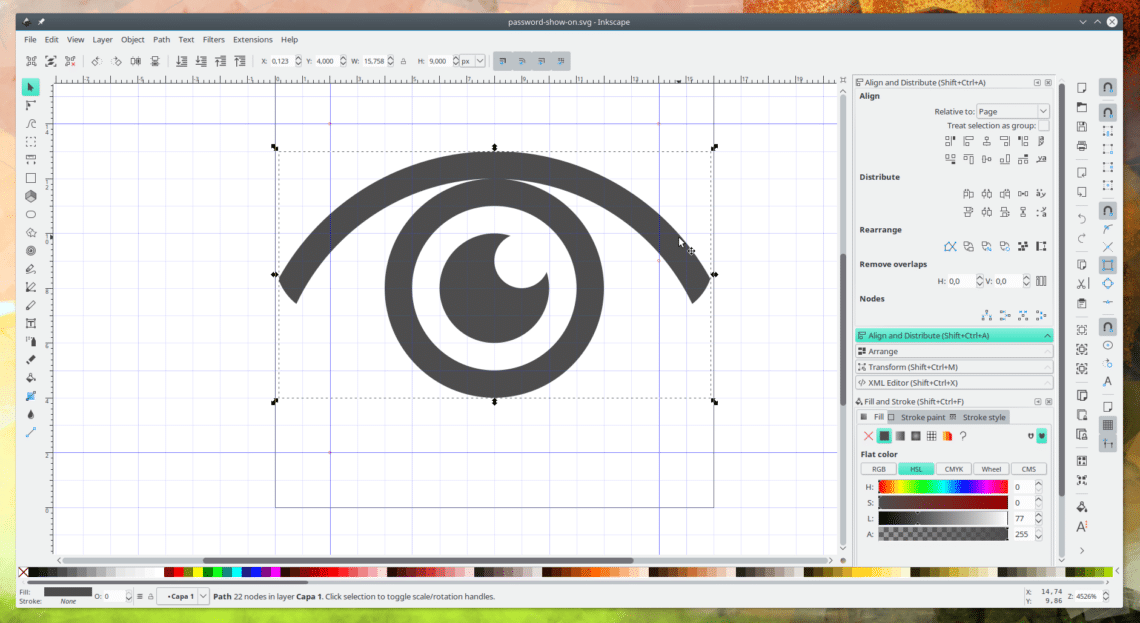 Pros:
It gives you all common features in vector object creation and manipulation
Fully anti-aliased rendering of your finished drawing
Supports EPS and PDF as well as the common file formats
Can be scripted through the CLI for conversion and export processes
Cons:
Inkscape lacks more advanced image editing features, generally focusing on vector graphics creation and editing
Gimp
Let's be honest, GIMP is the go-to photo editor for anyone who is familiar with Linux and even for a lot of Windows users. GIMP is advanced enough to offer extensive re-touching, drawing and even scripting capabilities. It is also completely free which, understandably, makes it the people's choice as far as image editing on Linux goes.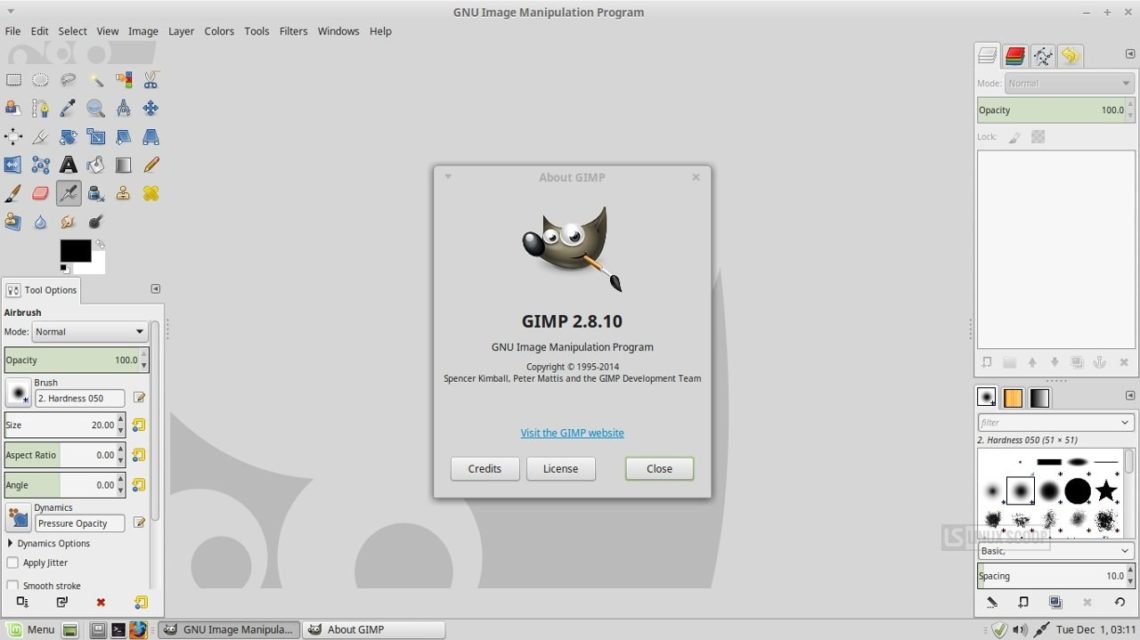 Pros:
Supports re-touching, enhancing and drawing
After version 2.8, the user interface is clear and intuitive
Allows you to use tools and concepts known from the major industry standards such as masks, paths, layers, etc.
Supports graphical tablets out of the box
GIMP can be extensively scripted with languages such as Scheme, Python, Perl and others
Cons:
There is a certain steep learning curve with GIMP
If you come from a background of using Photoshop, this software can take a while to get used to
In conclusion, we can say that whether you are an aspiring artist, photographer or just the average user out there who needs to crop out a couple photos, Linux has you well covered. As development and support continues to improve, we can hope to see more and more people give another chance to the system. Given the current tempo of growth in functionality and accessibility, the image editing capabilities of Linux may surprise us with their progress in another couple of years.

ONET IDC thành lập vào năm 2012, là công ty chuyên nghiệp tại Việt Nam trong lĩnh vực cung cấp dịch vụ Hosting, VPS, máy chủ vật lý, dịch vụ Firewall Anti DDoS, SSL… Với 10 năm xây dựng và phát triển, ứng dụng nhiều công nghệ hiện đại, ONET IDC đã giúp hàng ngàn khách hàng tin tưởng lựa chọn, mang lại sự ổn định tuyệt đối cho website của khách hàng để thúc đẩy việc kinh doanh đạt được hiệu quả và thành công.